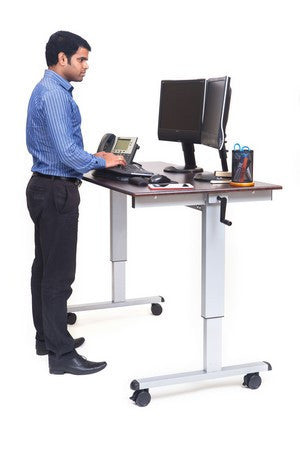 C StandUp-CF60-DW 60" Sit to Stand Crank Adjustable Computer Desk
C StandUp-CF60-DW 60" Sit to Stand Crank Adjustable Computer Desk (SKUCF60DW)
* Regular Price: $539.00
* Sale Price: $464.00 + Shipping: $165.00 (contiguous US Only)
C StandUp-CF60-DW 60" Sit to Stand Crank Adjustable Desk
The best solution for fine-tuning the height of a computer table or writing desk to obtain an ergonomically comfortable and healthy sit-to-stand workstation is achieved by using a proven hand-crank system. This system allows to easily adjust the height to suit your individual application, thus reduce muscle fatigue.

Quickly adjust from a sitting-down position to a standing-up position with the convenient hand-crank, and set your ideal writing or computing height.

The crank-handle allows to "continuously" adjust from 29.5" for sitting down to 47.25" for standing up. No more compromising on fixed factory-predetermined height choices.

With this true sit-down AND stand-up desk, work healthier, boost productivity and improve posture, while reducing your risk of heart problems. The crank allows for effortless adjustment from sitting to standing.

Perfect for desktop, laptop or tablet computing. Mobile and adjustable to meet your everyday needs.
* Dimensions:

Overall: 59"W x 29.5"D

We also have a 48" Wide version: C Stand-up CF48

Height adjustable hand-crank: from 29" to 42.75" H
* Features:

Durable steel frame with powder coat paint finish

Mobile: easy to maneuver with four 3" furniture grade casters with 2 locking brakes

Includes all hardware and tools required for assembly.
* Color: Dark Walnut
---
Related products:
---