DP55 5.5" Short LCD Monitor Pole Mount VESA Bracket- Universal
DP55 

 5.5" Short Universal LCD Pole Mount Bracket - VESA

Available in White or Black
* for 1.25 - 2.5" poles
If you have a 1" or 3" diameter pole, we offer options (read below).
* Regular Price: $109.00
* Sale Price: $89.00 + Shipping $15.00 (Continental US)
Easily attach a LCD monitor or iPAD (w/optional D-IP iPAD Holder)  to a dental chair or any 1" - 3" diameter pole!
Features:
- Mounts to 1.25" (32 mm.) to 2.5" (64 mm.) diameter poles
- Options: extra clamp for 1" poles; extra bolts for 3" poles; adapter to hold Ipad 1 & 2.
- Distance from rear of monitor to pole edge: 5.5"
- Holds monitor weights up to 25 lbs.
- For larger monitors please see our DP55-45 Monitor Pole Mount
- Tilts up and down and swivels left to right
- Monitor rotates 360 degrees
- LCD display can be viewed in horizontal (landscape) or vertical (portrait) positioning on horizontal or vertical pole
- Meets VESA 75*75 mm or 100*100 mm hole pattern mount standard. We include the mounting metric screws.
This is a universal LCD pole bracket which mounts to most poles found in dental offices and medical centers, with a diameter range of 1.25" to 2.5". An optional clamp (DPA1) allows for 1" poles and extra long bolts are available for poles up to 3". 
This LCD pole clamp bracket separates the monitor 5.5" from the edge of the pole to allow for a generous tilt. It also lets the monitor swivel & rotate 360 degrees. It is very  convenient for fast set-up of monitors in dental chairs, trade show exhibits, industries, etc...
Available in White or Black
This LCD bracket is very simple to mount and the height adjustment is done easily using the small Allen wrench provided on the 2 bolts on the clamp.
Its swivel, rotation and tilt capabilities make the ideal viewing angle very easy to achieve.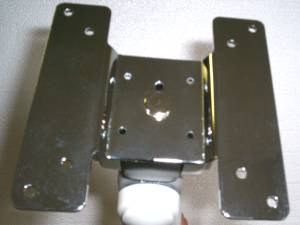 Dimensions above in mm.
* Options:
a) - DPA-1 Clamp for thinner poles, from 0.80" - 1.5" diameters. Must add to order. Simply swap the original clamp for this one.

.

b) DB3 Long Bolts, for poles diameters up to 3": when ordering, when selecting the color, choose the color with the option "with 3" Pole Bolts" (drop-down menu).

c) D-IP VESA IPAD Holder: attach an iPAD to this or any VESA 100 x 100 LCD monitor mount.

d) D200100 VESA Bracket Adapter: extends the applicable mounting holes pattern from VESA 100 x 100 to  to 200 x 100, for larger TVs.
Please click here for a monitor pole mount for larger TVs (up to 45")

   
* How to mount a LCD monitor to a pole or dental chair? 
Please call us if you are not sure how to mount a LCD Monitor or TV to a dental chair or pole or to see if your monitor is VESA compliant.
---