DF17CL Monitor Desk Stand and Arm - Clamp-on desk - height adjustable
DF17CL Monitor Desk Arm Stand - Clamp-on desk or mount on wall
* Reg. Price: $149.00
* Limited Time Sale Price: $109.00! + $15.00 Shipping (contiguous U.S.)
- Colors: All Silver or Black pole with Silver arm

The DF17CL is a great way to save space on your desk or table by quickly clamping a monitor stand on the table's edge. You can also screw it onto a table's edge.  In addition, the articulating VESA arm is great to find the best facing angle for your monitor. You can pull it out up to 17" from the pole and then push it back towards the pole or just swing it out of the way. You can extend it 17" and it can face anywhere. It rotates around the pole and you can adjust the height.
DF17CL with arm retracted against the pole.
Since you can  rotate the arm 360 degrees, it can actually face anywhere. If you have a touchscreen monitor, you can make the monitor face upwards and use the screen in stand up mode. The arm is also height adjustable all along the pole.
Below you can see how versatile this arm is:
Due to its 2-piece clamp, by just affixing the rear vertical part of the clamp to a wall you can use this arm as a wall mounted monitor arm.


Shown above attached to our CUZZI Desk S2326
Shown above attached to the back of our S2326 Desk, to view a monitor in bed.
Heavy-duty dual bolt clamp: instead of using just one flimsy plastic-knob screw like of the the items in the market, this unit uses 2 all metal bolts, to better distribute the pressure on the clamp's base. Also, no possibility of broken knobs.
In the image above you can see that you can also bolt this pole desk monitor stand onto the vertical edge of a table or counter. Simply disregard the clamp accessory (bottom part) shown and affix the vertical section to a table's edge. Use the same procedure to affix this monitor stand to a wall. 




 Click on the thumbnails on the left of this page for more images.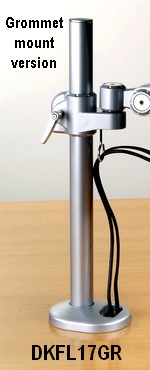 * Dimensions:
- Pole Height: 17 3/4"
- Pole Diameter: 1 3/8" (35 mm.)
- Clamp opens up to 3"
- Monitor Bracket: VESA 75 & 100 mm patterns
* Features: 
- Articulated Arm extends from 4.5" to 17"
- Height is easily adjusted along the pole via a handle
- Monitor tilts, swivels, rotates AND turns all around the pole, facing anywhere.
- LCD bracket swivel: 270 degrees; total tilt: 220 degrees
- With cable management clips
- For monitors up to 23 lbs.
- Torque adjustable on all articulations
* Colors: a) Black Pole with Silver Arm & Bracket
                b) All Silver
You can use your touch-screen in standing position, since the monitor can also face 100% to the ceiling:
* Tip 1: when attached to a wall, since you can also adjust the height of the arm along the pole, if you add a chair and a wall-mounted keyboard arm, you can use this set-up as a wall-mounted computer-desk.
* Tip 2: Add a second LCD Monitor arm (DFL17ARM) and create a dual desk stand, where any arm can face anywhere:
Above shown with an extra monitor arm attached (add item
DFL17ARM
)
---
Related products:
---