DW120B 12" Wall Monitor Arm & Bracket - Swivel - Tilt - Rotate - VESA 100 x 100
DW120B

 12" Wall Mount LCD Monitor Arm w/ Bracket - Swivel - Tilt - Rotate adjustment (SKU

DW120B)

* Dimensions:
- Length: 12.5" from wall to VESA plate (rear of monitor)
- Hole Pattern for monitor: VESA 75 x 75mm & 100 x 100mm.
- Base: 3.12" W x 1" D x 4.75" H
- Load: holds LCD monitors up to 22 lbs (10 kgs.)

 * Click here to see a printable spec sheet DW12B-177A Wall LCD Bracket - VESA

* List Price: $108.00
-  Sale Price: $35.00 + Shipping $15.00 (continental USA)
---


This is a heavy-duty 12.5" long LCD Monitor Wall Mount Arm & Bracket. It comes with metric VESA monitor mounting screws, wall anchors for concrete walls (your application might require different anchors), a level and an oversized Allen wrench for adjusting the stiffness of the articulations. When used fully extended, the distance from the rear of the monitor to the wall will be 2.5".
The image above shows the 3 points of articulation on the arm: one the base and two behind the VESA monitor mounting plate.
Rear views of the wall mount monitor arm's base
The image above shows the strong 1/8 thick steel base, with 8 mounting holes. The base includes a nice cover to conceal the bolts.  Click here for more specs.
The two articulations on the picture above show allow the monitor bracket to tilt 90 degrees tilt and also swivel 90 degrees. The torque of all these articulations can be easily adjusted using the supplied Allen wrench, so as to accommodate the stiffness of these motions to the user's particular application. Simply remove the protective caps and adjust the torque bolts.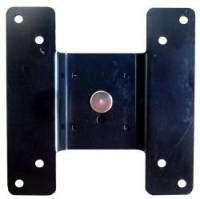 VESA 100x100 & 75x75 Mount Bracket
The VESA bracket on this monitor wall arm includes the two most popular monitor hole mounting patterns: 75 x 75 mm & 100 x 100 mm, applicable for monitors around 32" (diagonal width) and smaller. If your monitor is larger we have adapters. If not sure, just call us if (have the model of you monitor handy).
* For shorter reach applications (5" from the wall), with the same swivel, tilt and rotating capabilities, we recommend our DW50B Wall Mount Bracket.
* For a flush mount installation, please see our D172A  Near Flush Mount LCD Monitor Bracket.
* Click here to see more LCD monitor mounts, for mounting on a wall, pole or pole cart...
Call us for Wholesale bulk purchases
---
Related products:
---