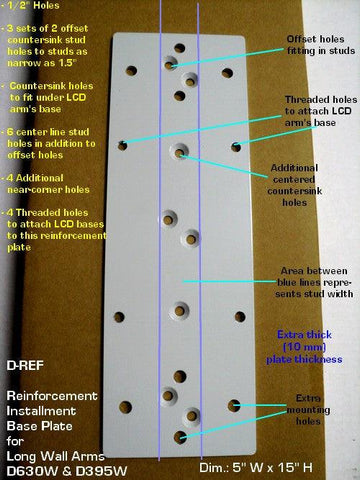 D-REF Installation Reinforcement Plate for DW630W & DW395W Wall LCD Monitor Arms
DREF Installation Reinforcement Plate for CUZZI long reach monitor wall arms (SKUDREF)
Regular Price $79.00
Sale Price: $65.00 + $20.00 Fedex Ground Shipping
This plate is recommended when installing CUZZI DW630W or DW395W LCD Monitor Arms onto hollow walls. The above arms only include hardware for wooden or concrete walls since the fasteners will vary in the case of installing the arms on hollow-walls, depending mainly on the thickness and strength of your hollow-wall.
This plate increases the size of the base, while also providing extra fastening points. It also creates fastening points exactly in the middle of the arm's base so as to also catch the stud in the middle. Standard studs are not wide enough to allow bolting both sides of the base onto the stud.
When installing a long reach monitor or TV arm on a vertical surface, this surface must be very sturdy and compact in order to hold the fastening hardware securely. Concrete walls and wooden or metal studs are ideal affixing points.
In the case of hollow-walls, if the wall is not strong enough, even if the fasteners are, a chunk of the wall itself might break off altogether with the base attached to it due to the down-force leverage created by the monitor's weight on the opposite side of the arm when fully extended.
The hefty D-REF Installation Reinforcement Plate extends the dimension of the base while simultaneously providing many more affixing points. This allows to catch a stud properly (in the middle) and also adding more fastening points into the drywall, around the studs, with the appropriate hollow-wall fasteners.
Even if installing on a concrete wall or other compact walls, this reinforcement plate will facilitate and further secure the install. This plate reduces the downward stress from the base onto the wall created by the long travel of the arm when fully extended, through its increased vertical footprint .
Installation: install the plate onto the wall, ideally trying to catch a stud. if no stud available, install as metal hollow-wall anchors as possible. Then simply attach the base to the plate using the Allen Bolts provided into the threaded holes ("A") that match the holes on the LCD arms' base. The plate includes a generous selection of holes, under and beyond the LCD arm's base, to better distribute the force applied on each fastener.
The holes in the center section are meant to attach to a stud. The ones that "hide" under the original base are countersunk.
The professional installer will select the holes that are better suited to the particular install conditions.
D-REF Installation Reinforcement Plate Pdf download
The selection of the fasteners to attach this reinforcement base to the wall will depend on the wall type and conditions.
IMPORTANT: the installation of all our LCD Mounts must be done by a professional.
Please contact us with any questions, at Ph: (321) 303-9598
---
Related products:
---