D720BK Monitor Pole Desk Stand - Bolt-on- Height adjustable - BLACK
720BK LCD Monitor Pole Desk Stand - Bolt-on Grommet Mount - VESA
Grommet Mount- w/ Height Adjustable LCD Bracket - BLACK


* Reg. Price: $195.00
* Sale Price: $155.00! + $15.00 Shipping (Ground contiguous US)
Color: New BLACK color! Silver color above not available. Only available in BLACK
Description:
This is a monitor desk-stand that installs via a bolt-on base. This stand allows to save space on your desktop and to aim the monitor in any position around the pole The VESA bracket is height adjustable. It also makes the transport of the rolling desk safer, as it is bolted on. 
Extra items can be added to the pole, as shown below in Options.


Dimensions:
- Pole Height: 17 3/4"
- Pole Diameter: 1 3/8" (35 mm.)
- Grommet install suitable for tabletops up to 2" thick . Also can be screwed onto a surface.
- "Through" Bolt: Diam.: 8 mm (0.315"; approx. 5/16"); Length: 7.5"
- LCD Monitor Bracket plate is compatible with VESA 75 & 100 mm standard hole patterns.
Installation: 
Install by simply by drilling a hole on the tabletop to for an 8 mm. (5/16") diam. bolt to go through that surface and secure the bolt with the large washer and nut provided, on the other side (bottom of tabletop). Saves most of your usable desktop or counter space. If you prefer to clamp a similar desk-stand, instead of drilling a hole on the surface, please click here

Features: 
- The monitor's height is easily adjustable w/o requiring tools, via its handle.
- Monitor tilts & swivel: LCD bracket total swivel: 270 degrees on its articulation and can rotate all around the pole
- LCD bracket tilt: 90 degrees down w/o monitor; 110 up w/o monitor. Actual tilt is only limited by the size of the screen.
- The pole can also be screwed or bolted on to the surface
- Includes cable clips; Cable can be run through the table.
- Ideal monitor weight: up to 23 lbs.
- Easy Torque adjustability for all articulations.
Options:
The options below attach to any of our 35 mm. poles and DVC04 Pole computer workstations.

a) Attach a laptop arm: D-LPTA Laptop Arm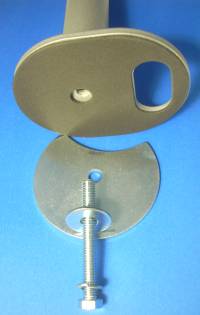 b) Attach a monitor arm:  DFL17ARM 
c) Attach a shelf for printer, writing, literature, etc..: DVC03-SH
d) Attach a keyboard tray: DVC03-KB
---
Related products:
---